Hector:
Hector Garcia (Nicolas Dunn) is Taylor's best friend. He is a very loyal to Taylor, and often gets dragged along on her crusades. However, he falls out with Taylor in the episode "Flag Fall" after Taylor calls him a dork after he volunteers to raise the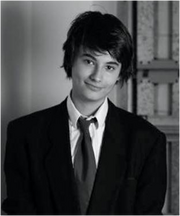 new school flag and again in "School Trivia Night" where Taylor accidentally gets teamed up with Leon.
Hector has an obvious crush on Taylor, even going so far as to send her a Valentine's Day gift and card in the episode "DJ Taylor". Most often the fans(including me!) ship Taylor and Hector.
He is allergic to cats (as revealed in the episode "Taylor Gets a Job").